Washdown stations, also known as mixing unit hose stations, clean and sanitize surfaces in facilities where maintaining hygiene is critical. Commonly used in food processing plants, chemical or petrochemical facilities, and other industrial settings, these systems utilize a high-pressure, high-temperature water stream to clean equipment, floors, walls, and other surfaces to prevent contamination and ensure compliance with regulatory sanitation standards.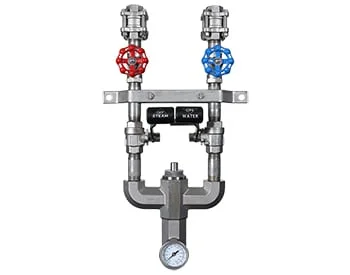 Background
To ensure food quality and prevent food-borne illnesses, authoritative agencies such as the FDA have outlined sanitation requirements that each facility must adhere to or risk being fined. These include identifying hazards like food production residue, liquid and airborne contamination, transient soil from workers, detergent residue, and microorganisms. Food production facilities are often exposed to these hazardous contaminations, which is why washdown stations are recommended in production facilities.
Cleaning food processing machinery or chemical tanks and equipment is not always an easy task. Conventional hose station industrial units using old pressure-balancing technology that relies on multiple moving parts are prone to premature failure due to mineral deposits and scaling. The regular maintenance of these units necessary to keep them running safely is very time-consuming and costly.
To ensure a high-powered wash that guarantees cleanliness in production facilities, ThermOmegaTech® offers the most economical, safe, and efficient industrial wash down stations and washdown equipment.
Washdown Stations: Product Highlights
ThermOmegaTech®'s innovative washdown stations include a variety of high-temperature sanitation and maintenance equipment necessary for industrial facilities, including steam and water washdown stations, plus hot water mixing unit hose stations.
The ThermOmegaTech® STVM® Washdown Station is used in food processing, dairy, breweries, wineries, chemical, petrochemical, and pharmaceutical facilities where a high-temperature wash down is required. The STVM® station is designed to provide a steady stream of instant hot water by utilizing its proprietary mixing valve to combine steam and cold water at a user-set temperature. The intuitive valve throttles open and closed, essentially eliminating the 'hose full of steam' problem of the past.
The unique Venturi mixing technology featured in the station quietly combines the supplied steam and cold water, reducing worker stress and promoting overall workplace safety. As the flow of steam and water enters the thermostatic mixing valve, a scouring action minimizes the buildup of minerals and reduces buildup in tight clearance areas. This ensures long, uninterrupted use and silent operation, even in high mineral content water conditions.
The simplistic and cost-effective HCX Washdown Station, designed to maintain production facility sanitation for those without an available steam supply, delivers a high-powered wash by instantaneously mixing hot and cold water to the desired proportion.
For single-channel washdown stations, the HCS washdown station provides a single stream of hot or cold water for washdown applications.
Washdown Supplies and Accessories
Find additional washdown supplies and unit components, including hoses, cartridges, and storage equipment.
Product Highlights
Designed to expedite routine maintenance with minimal downtime, we provide an interchangeable cartridge to service the STVM® station quickly and efficiently. Simply unscrew the cartridge with a standard wrench, put in a new cartridge, and the unit is up and running within minutes.
Stay organized and clutter-free with the ThermOmegaTech® Washdown Station Enclosure, a robust, stainless-steel storage unit with ample space for all your washdown supplies, including units, hoses, and washdown guns.
To obtain further details, kindly refer to each product page below. If you need any assistance, including help with purchasing a product, please don't hesitate to contact us!