The Thermo Scientific™ Orion™ 2120XP Calcium Hardness Analyzer detects calcium as a major component of hardness in real time, providing accurate and reliable results, and Limit the costly effects of improper water purification
Applications
• WATER SOFTENING
• ZEOLITE SOFTENER EFFLUENT MONITOR
• BLENDING APPLICATIONS
• pulp and paper
• chemical production

Features:
Holds calibration up to 60 days between reagent changes
Fast and accurate calibration to get you back online in minutes
Long life sensor technology for stability and high performance
Simple operation and minimal maintenance required—no moving parts
Repeatable and verifiable measurements at a glance using the large, user friendly display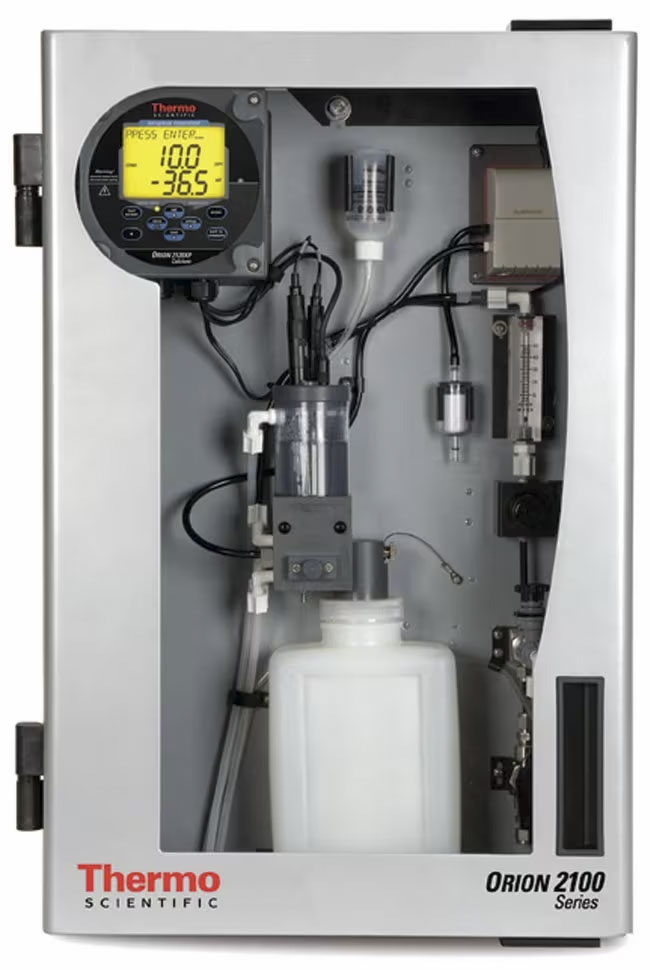 2120XP Calcium Hardness Analyzer Ordering Information:
Annual Consumables Kit, Cat. No. 212050XP
Reagent, Cat. No. 182011
Diffusion Tubing, Cat. No. 181060
Calibration Kit, Cat. No. 2120XPCAL
Calibration Standards, Cat. No. 182040
Calcium Electrode, Cat. No. 100049
Reference Electrode, Cat. No. 100056
Reference Electrode Filling Solution, Cat. No. 181073
Features
• Detection limit of 25 ppb offers continuous calcium
hardness analysis in a wide variety of samples
• Protect against early softener breakthrough with
sensitive, and verifiable measurements that provide early
detection of calcium hardness
• Simple step-by-step scrolling instruction for setup,
calibration, operation and diagnostics menus is easy to
use while maximizing uptime
• Large operator friendly backlit display for viewing
measurements even with the lowest light conditions
• Superior Orion calcium electrode technology provides
fast and stable measurements, limiting unnecessary
calibration cycles due to drift
• Minimize operator time and maintenance without the use
of complicated moving parts that often require frequent
attention and expensive spare part expenditures
• Advanced user interface with detailed calibration,
measurement and diagnostic logs for early action level
notification, configurable for desired level of performance
and all password protected if preferred
• Simple and fast calibration cycles using double known
addition to securely and quickly get the system back
online
• Retrofitable to the Thermo ScientificTM OrionTM 1820AO
Analyzer panel mounting footprint
• Expandable platform with grab sampler, automation and
automatic validation modules
• Reagent adjusts pH for proper sample conditioning to
ensure accurate and reliable measurements
• Modbus® communication card option available.