This email address is being protected from spambots. You need JavaScript enabled to view it.
Best-In-Class Trace O2 Analyzer
The MODEL 2010BX is AMI's most advanced Trace Oxygen Analyzer. This next generation unit combines patented technologies and superior design to deliver unsurpassed performance and reliability while keeping costs low. The MODEL 2010BX is the #1 choice among engineers and measurement technicians.
ELIMINATOR CELL BLOCK For A Leak-Free Design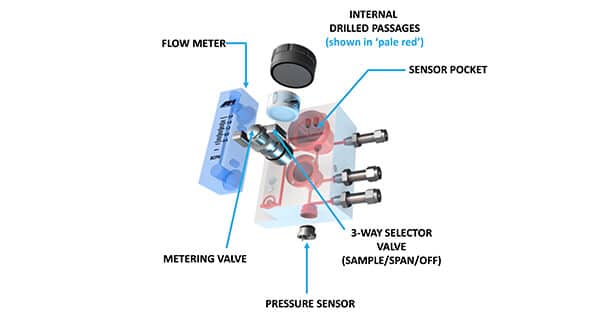 The patented ELIMINATOR CELL BLOCK provides a unique, compact sample system approach and a flow-efficient sensor pocket machined into a solid metallic block. Precision cross drilled intersecting gas passages eliminate the need for long lengths of tubing and leak-prone compression fittings. Additionally, a uniquely engineered 3-way selector valve (Sample/Span/Off), metering valve, pressure sensor and flow meter are all integrated into the ELIMINATOR CELL BLOCK. It also provides the user with direct front panel access for installing and replacing sensors, and the ability to air calibrate the analyzer, all without the need for disassembly or tools.
Dimensions: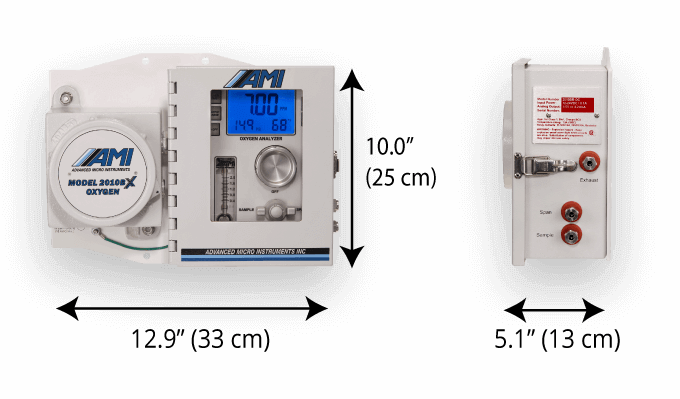 Available in AC or DC
Wall Mount or 2" Pipe Mount
Wetted Parts: 316 S.S. fittings, electro-less nickel-plated cell block, gold-plated contacts, acrylic flow meter & O-rings (Viton, kalrez, and Buna-N)
Gas Connections: 1/4" 316 SS Compression Fittings
Weight: 16 lbs.