The MODEL 1000RS Portable Trace Oxygen Analyzer is the undisputed leader when measuring ppm levels of oxygen in the natural gas industry. Patented innovations and key features are packed into a compact, rugged design. The patented ELIMINATOR CELL BLOCK and sensor technology combination produce an incredibly fast and reliable O2 measurement. The datalogging feature serves as a critical tool when searching for difficult intermittent leaks in the field.
This email address is being protected from spambots. You need JavaScript enabled to view it.
DEMINSIONS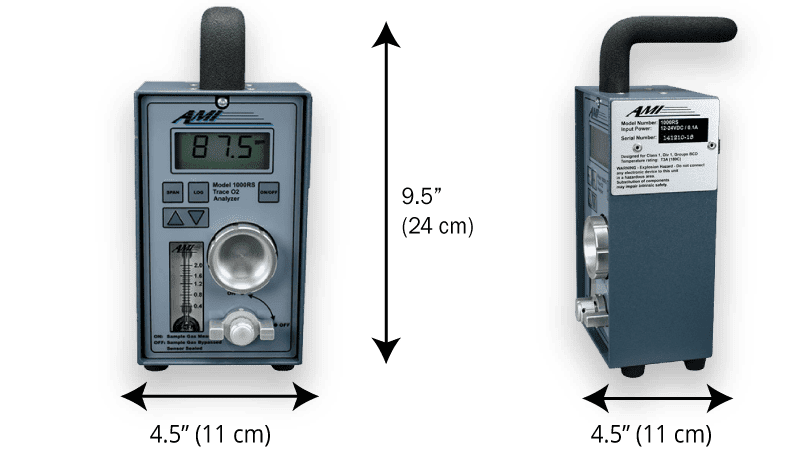 INNOVATIVE 4-WAY VALVE FOR RAPID RESPONSE
AMI's uniquely engineered 4-way valve is integral to the ELIMINATOR CELL BLOCK and allows the user to quickly purge air from the sample lines with process gas while bypassing the O2 sensor. Then a simple 90°rotation of the 4-way valve to 'SAMPLE' Mode allows sample gas to flow past the sensor for a rapid, accurate response to trace oxygen levels in the pipeline gas. This valve design eliminates the typical lag time associated with a new gas connection, where the oxygen reading spikes to air, resulting in a slow recovery down to low ppm levels. Once sampling is complete, the 4-way valve is rotated to the 'OFF' position, isolating the sensor from unwanted air exposure between measurement sites.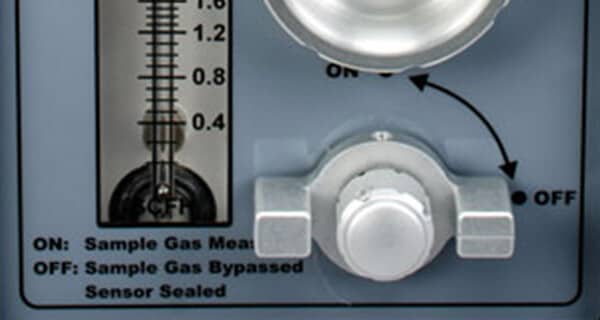 THE ELIMINATOR CELL BLOCK ADVANTAGE
The patented ELIMINATOR CELL BLOCK provides a unique, compact sample system approach and a flow-efficient sensor pocket machined into a solid metallic block. Precision cross-drilled intersecting gas passages eliminate the need for long lengths of tubing and leak-prone compression fittings. It also provides the user with direct front panel access for installing and replacing sensors, and the ability to air calibrate the analyzer, all without the need for disassembly or tools.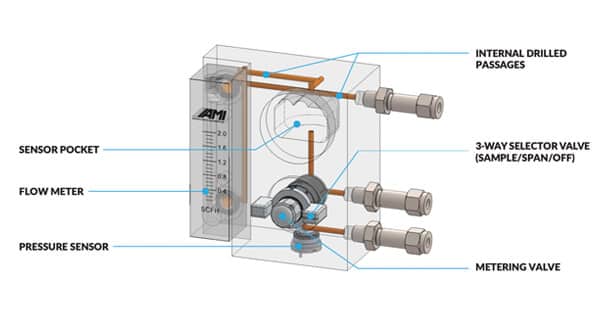 TRULY PORTABLE AND DESIGNED FOR THE FIELD
At just 5 lbs (2.3 kg), the MODEL 1000RS is the smallest, lightest, fastest and most accurate portable Trace Oxygen Analyzer in the industry. It comes standard with an onboard data logger for measuring time-stamped O2 levels and temperature, which is essential for tracking down hard-to-find, intermittent oxygen leaks in the field. The long-life rechargeable battery proves useful when you need days of unattended operation for tracking sporadic oxygen spikes caused from leaks.